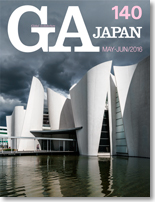 Appeared in a Magazine
The wooden building which be inserted Stroog connectors was appeared in a magazine.
Angle braces that have each different angle are connected by using Node.Free connectors
to the structure of the building.
Node.Free connectors realize a universal joint.  Therefore Angle braces are connected at a
free angle to reinforce the structure. And furthermore, Angle braces are used as a play eq-
uipment.
Main structure is connected by Stroog connecters. As a result, beautiful space is realized.
Magazine      : "GA JAPAN" 140 issue
Pages           : 38 to 57
Architectural Design : YASUTAKA YOSHIMURA ARCHITECTS
Structural Design     :  Mitsuda Structural Consultants
Supervisor               :  HIBINO SEKKEI + youji no shiro
Building Use             : kindergarten
Structure       :  Steel + Wooden
Scale         :  2 stories
Site         :  Chiba
Connectors     :  Node.HSS、Node.Column、Node.Fastener、Node.Free