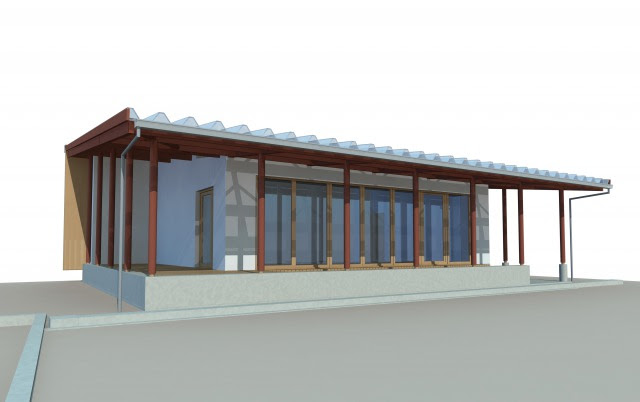 一般社団法人パッシブハウス協議会が主催する、パッシブデザインコンペ2015に入賞した
事例をご紹介します。
東側に8.2mの大開口をストローグのラーメンフレームで実現し、太陽熱を大開口から室
内に取り込むことで、暖房負荷を減らしました。また、軒先を透明ポリカーボネート板にす
ることで、冬期の日射を得られやすいと同時に夏期は、透明ポリカーボネート板の下で水平
日射遮蔽を行います。
→物件詳細
物件名  :米原の家
意匠設計 :吉岡昌一建築設計事務所
構造設計 :Stroog.design
建設地  :滋賀県
用途   :住宅
構造   :木造平屋建て
延床面積 :84.54㎡
コネクタ :Node.HSS、Node.Column、Node.Fastener、Node.Rigid
パッシブハウスとは、建物の冷暖房負荷を各15kWh/㎡以下に抑え、アクティブな冷暖房器
具を不要とする住宅のことです。
→パッシブハウスとは
Case of a Passive House
This is the case of a passive house that was awarded a prize of Passive Design
Competition 2015 which is intended to convey the appeal of the passive design
widely.
The 8.2m opening of Rahmen frame for receiving solar heat is to be realized by
using STROOG connectors. As a result, the air-conditioning load was reduced
15 kwh/m2 or less.
→Detail Japanese text only
Architectural design   : Masakazu Yoshioka Architect and Associates
Structural design        : Stroog.design
Building use               : House
Structure                    : Wooden
Scale                          : 1 story
Site                             : Shiga
Connectors               :Node.HSS、Node.Column、Node.Fastener、Node.Rigid