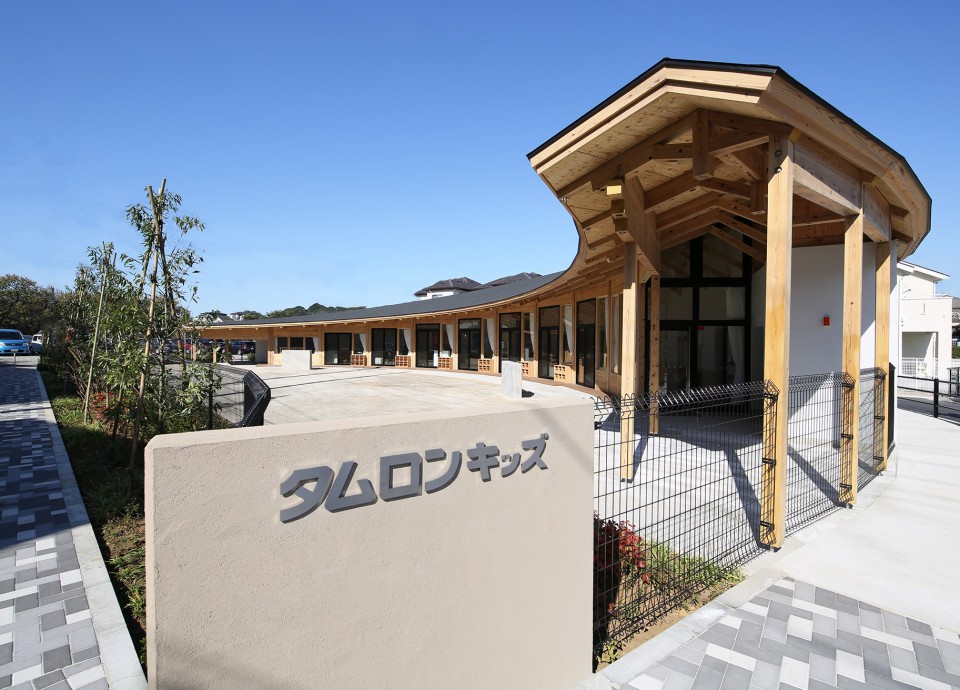 建設地である埼玉県産材をふんだんに使用した中大規模木造建築物であり、子供の成長に
良い影響を与える木造の企業内保育園の事例です。
レンズをイメージした中大規模木造建築物の架構の一部にストローグの角度付梁受コネクタ
が採用されました。角度付コネクタは、柱梁接合部が90度以外の角度で接合される場合に
ご指定の角度での接合を可能とします。
物件名  :タムロンキッズ保育園
設計   :株式会社日建設計
建設地  :埼玉県さいたま市
用途   :企業内保育園
構造   :平屋木造+RC造
延べ床面積:194.31㎡
コネクタ :Node.Fastener

Case of a Wooden Building
This is the case of wooden Intra-company nursery that is a good environment for
the growth of children. This building was built of timber that were cut in the local.
The design of this building was inspired by a shape of an optical lens.
STROOG angled connectors were used in the part of this building for framing the
unique building shape.
STROOG designed the angled connectors for connecting any angle except a right
angle.
Architectural Design : NIKKEN SEKKEI LTD
Building Use             : Nursery
Structure                 : Wooden + Reinforced Concrete
Scale                       : 1 Story
Site                         : Saitama
Connectors             : Node.Fastener