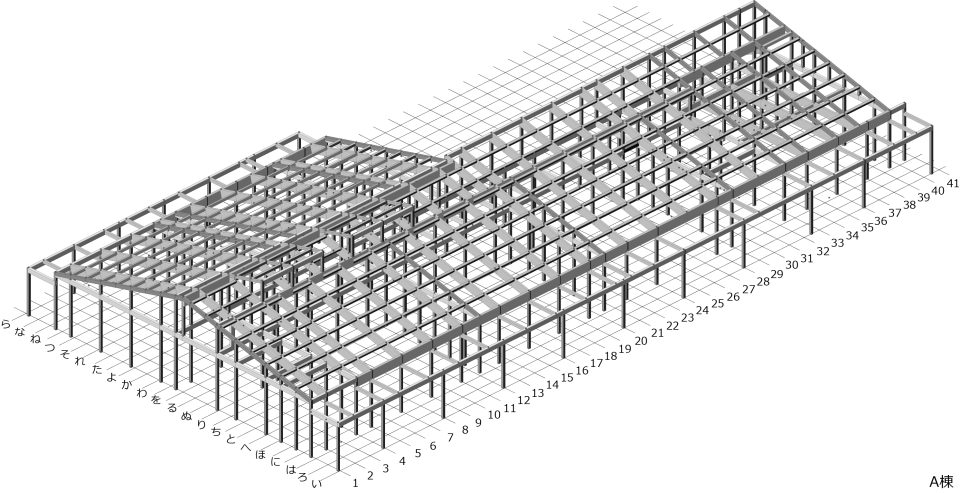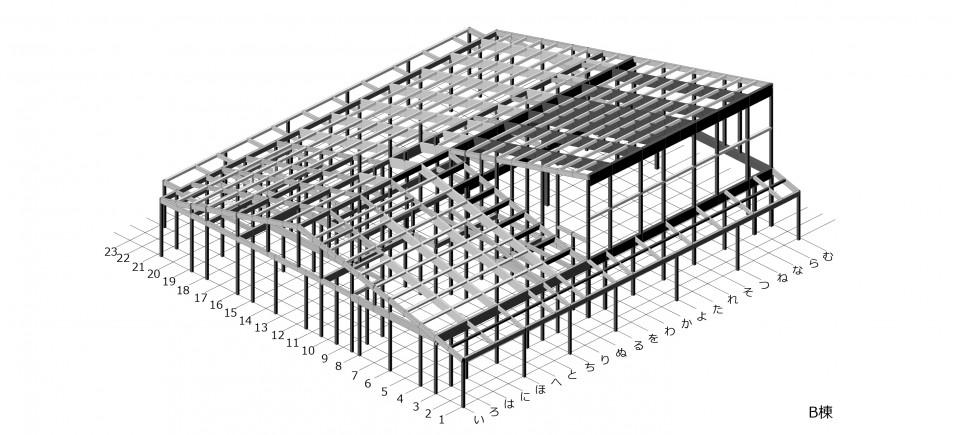 A棟、B棟合わせて886㎡を超える平屋建て中大規模木造建築物事例であり、立体解析に
より構造の安全性を確認しています。
A棟は、長手方向に約40mの大きさがあり、約6m×8mの保育室が、合わせて5部屋配置
されています。
B棟は、9m×12mの遊戯室と7m×14.5mの保育室が配置され、遊戯室の上部は片流
れ屋根による吹抜空間を実現しています。
中大規模木造用梁受コネクタNode.HSMLを含むストローグの既製コネクタを使用することで、
特注コネクタの設計に要する時間やコストを削減することができます。材断面が大きい場合に
もロングボルトやロングドリフトピン等の準備があります。
また、全国にストローグコネクタに対応したプレカット工場があるので、現場に近いプレカッ
ト工場で加工を行うことができ、輸送コストの削減も図れます。
対応プレカット工場の分布は下記サイトの日本地図をご覧ください。
→ストローグのメリット
ご不明点ご質問ございましたら下記のフォームよりお気軽にお問い合わせください。
→お問合せフォーム
Case of a Wooden Building
This is a case of wooden structure that is consist of two buildings.
The total floor area is over 886 square meter.
The structural integrity of these buildings were verified by 3-dimensional analysis
system.
The longitudinal size of Building A is 40 meters.
5 nursery rooms are arranged in the Building A. The each nursery room is 6 meters
long and 8 meters wide.
A nursery room in the Building B is 7 meters long and 14.5 meters wide. A play room
in the Building B is 9 meters long and 12 meters wide. The Above of the playroom is
an open ceiling.
Ready made connectors realize the shortening of design hours and the cost reduction.
There are about 140 pre-cut factories across Japan are compatible with STROOG.
Therefore, a near factory can provide pre-cut timber to the construction site.
Architectural Design : SHP DESIGN STUDIO
Structural Design     : Stroog.design
Building Use             : Nursery
Structure       : Wooden
Scale         : 1 story
Site         : Ehime
Connectors     : Node.HSS、Node.HSML、Node.Column、Node.Fastener
→Contact Form   Japanese text only