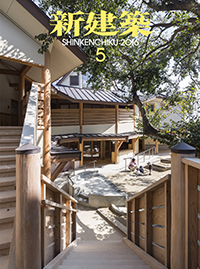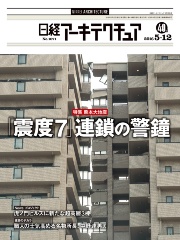 この度、ストローグのコネクタを使用した中大規模木造建築物が二つの雑誌に掲載されました。
Node.Freeコネクタにより、場所によって角度がばらばらな火打梁を美しく接合しています。部材同
士をユニバーサルジョイントとして自由な角度で接合できるため、強度不足を補う火打梁を様々な角
度で接合し、遊具として生かすことも実現しました。
また、主要構造体のコネクタには、Node.HSS、Node.Column、Node.Fastenerが使用されました。
これにより、意匠性に優れた美しい空間を実現しました。
掲載ページ
雑誌1:新建築2016年5月号
「フクマスベース/福増幼稚園新館」P62~71
雑誌2:日経アーキテクチュア2016年5月12日号
「Focus on Architecture フクマスベース(福増幼稚園新館)」P56~63
物件概要
物件名  :フクマスベース/福増幼稚園新館
意匠設計 :吉村靖孝建築設計事務所
構造設計 :満田衛資構造計画研究所
監修   :日比野設計+幼児の城
建設地  :千葉県
用途   :幼稚園
構造   :鉄骨造 + 木造地上2階建て
延床面積 :684.81㎡
コネクタ :Node.HSS、Node.Column、Node.Fastener、Node.Free
ご不明点・ご質問等ございましたらお気軽にお問い合わせください。
→お問合せフォーム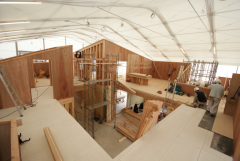 鉄骨造テント内に木造部分を施工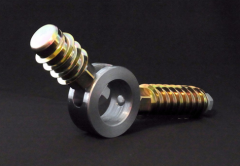 Node.FreeコネクタとStroog.LSBで接合



ユニバーサルジョイントで自由な角度で接合

Appeared in Magazines
The wooden building which be inserted Stroog connectors was appeared in two magazines.
Angle braces that have each different angle are connected by using Node.Free connectors
to the structure of the building.
Node.Free connectors realize a universal joint.  Therefore Angle braces are connected at a
free angle to reinforce the structure. And furthermore, Angle braces are used as a play eq-
uipment.
Main structure is connected by Stroog connecters. As a result, beautiful space is realized.
Magazine 1   : "SHINKENCHIKU" May 2016 issue
Pages           : 62 to 71
Magazine 2   : "NIKKEI ARCHITECTURE" 12 May 2016 issue
Pages           : 56 to 63
Architectural Design : YASUTAKA YOSHIMURA ARCHITECTS
Structural Design     :  Mitsuda Structural Consultants
Supervisor               :  HIBINO SEKKEI + youji no shiro
Building Use             : kindergarten
Structure       :  Steel + Wooden
Scale         :  2 stories
Site         :  Chiba
Connectors     :  Node.HSS、Node.Column、Node.Fastener、Node.Free